{"id":10067043850,"title":"6' H Dog Fence Heavy Line Posts-7 Pack","handle":"6-h-dog-fence-heavy-line-posts-7-pack","description":"\u003ch5\u003eInformation\u003c\/h5\u003e\n\u003cdiv\u003e\n\u003cp\u003e\u003cspan\u003eOur dog fence heavy duty deluxe posts are made of galvanized steel and have a black vinyl coating, which blends in nicely with our fencing. The heavy duty deluxe posts are 1 5\/8 inch in diameter to provide maximum support for your dog fence. The heavy duty deluxe posts utilized a ground sleeve to anchor to the ground. The ground sleeve is pounded in the ground until the top is flush with the ground surface using a drive cap (not included, you will need one for every 21 posts), the post simply slides into the sleeve 12 inches. The heavy duty deluxe posts can be spaced every 15 to 20 feet.\u003c\/span\u003e\u003c\/p\u003e\n\u003ch5\u003eWhat's Included\u003c\/h5\u003e\n\u003cp\u003e\u003cstrong\u003e7  \u003c\/strong\u003e      7\u003cspan\u003e' x 1 \u003csup\u003e5\u003c\/sup\u003e\/\u003csub\u003e8\u003c\/sub\u003e" pipes  (6' above ground)\u003c\/span\u003e\u003cspan\u003e \u003c\/span\u003e\u003cbr\u003e\u003cstrong\u003e7  \u003c\/strong\u003e      \u003cspan\u003eGround Sleeves\u003c\/span\u003e\u003cbr\u003e\u003cstrong\u003e7\u003c\/strong\u003e        \u003cspan\u003e1 \u003csup\u003e5\u003c\/sup\u003e\/\u003csub\u003e8\u003c\/sub\u003e" Vinyl Post Caps \u003c\/span\u003e\u003cspan\u003e \u003c\/span\u003e    \u003cspan\u003e \u003c\/span\u003e\u003cstrong\u003e  \u003c\/strong\u003e     \u003cspan\u003e \u003c\/span\u003e\u003cbr\u003e\u003cbr\u003e\u003c\/p\u003e\n\u003cp\u003e\u003cspan\u003e \u003c\/span\u003e\u003c\/p\u003e\n\u003cp\u003e Easy to follow written installation instructions\u003c\/p\u003e\n\u003cp\u003e\u003cspan style=\"font-size: xx-small;\"\u003e*adding options will change what is included. Base kit items shown.\u003c\/span\u003e\u003c\/p\u003e\n\u003ch5\u003e\u003cspan style=\"font-size: xx-small;\"\u003eSpecs\u003c\/span\u003e\u003c\/h5\u003e\n\u003cp\u003e\u003cspan style=\"font-size: xx-small;\"\u003e\u003cstrong\u003eDimensions:\u003c\/strong\u003e\u003cspan\u003e 7' x 1 5\/8\"\u003c\/span\u003e\u003cbr\u003e\u003cstrong\u003eColor:\u003c\/strong\u003e\u003cspan\u003e  black\u003c\/span\u003e\u003cbr\u003e\u003cstrong\u003eMaterial:\u003c\/strong\u003e\u003cspan\u003e  galvanized steel, vinyl-coated\u003c\/span\u003e\u003c\/span\u003e\u003c\/p\u003e\n\u003cp\u003e\u003cspan style=\"font-size: xx-small;\"\u003e\u003cspan\u003eWeight: 42\u003c\/span\u003e\u003c\/span\u003e\u003c\/p\u003e\n\u003c\/div\u003e","published_at":"2017-02-08T11:48:00-05:00","created_at":"2017-02-08T11:49:30-05:00","vendor":"easypetfence","type":"","tags":["Dog Fence"],"price":17995,"price_min":17995,"price_max":17995,"available":true,"price_varies":false,"compare_at_price":null,"compare_at_price_min":0,"compare_at_price_max":0,"compare_at_price_varies":false,"variants":[{"id":37480272586,"title":"Default Title","option1":"Default Title","option2":null,"option3":null,"sku":"DE2160-07","requires_shipping":true,"taxable":true,"featured_image":null,"available":true,"name":"6' H Dog Fence Heavy Line Posts-7 Pack","public_title":null,"options":["Default Title"],"price":17995,"weight":0,"compare_at_price":null,"inventory_quantity":-8,"inventory_management":null,"inventory_policy":"deny","barcode":"680175763469"}],"images":["\/\/cdn.shopify.com\/s\/files\/1\/1756\/5137\/products\/Post_7__21259.1429644149.250.250.jpg?v=1486572571"],"featured_image":"\/\/cdn.shopify.com\/s\/files\/1\/1756\/5137\/products\/Post_7__21259.1429644149.250.250.jpg?v=1486572571","options":["Title"],"media":[{"alt":null,"id":311050829917,"position":1,"preview_image":{"aspect_ratio":1.0,"height":250,"width":250,"src":"https:\/\/cdn.shopify.com\/s\/files\/1\/1756\/5137\/products\/Post_7__21259.1429644149.250.250.jpg?v=1568955601"},"aspect_ratio":1.0,"height":250,"media_type":"image","src":"https:\/\/cdn.shopify.com\/s\/files\/1\/1756\/5137\/products\/Post_7__21259.1429644149.250.250.jpg?v=1568955601","width":250}],"content":"\u003ch5\u003eInformation\u003c\/h5\u003e\n\u003cdiv\u003e\n\u003cp\u003e\u003cspan\u003eOur dog fence heavy duty deluxe posts are made of galvanized steel and have a black vinyl coating, which blends in nicely with our fencing. The heavy duty deluxe posts are 1 5\/8 inch in diameter to provide maximum support for your dog fence. The heavy duty deluxe posts utilized a ground sleeve to anchor to the ground. The ground sleeve is pounded in the ground until the top is flush with the ground surface using a drive cap (not included, you will need one for every 21 posts), the post simply slides into the sleeve 12 inches. The heavy duty deluxe posts can be spaced every 15 to 20 feet.\u003c\/span\u003e\u003c\/p\u003e\n\u003ch5\u003eWhat's Included\u003c\/h5\u003e\n\u003cp\u003e\u003cstrong\u003e7  \u003c\/strong\u003e      7\u003cspan\u003e' x 1 \u003csup\u003e5\u003c\/sup\u003e\/\u003csub\u003e8\u003c\/sub\u003e" pipes  (6' above ground)\u003c\/span\u003e\u003cspan\u003e \u003c\/span\u003e\u003cbr\u003e\u003cstrong\u003e7  \u003c\/strong\u003e      \u003cspan\u003eGround Sleeves\u003c\/span\u003e\u003cbr\u003e\u003cstrong\u003e7\u003c\/strong\u003e        \u003cspan\u003e1 \u003csup\u003e5\u003c\/sup\u003e\/\u003csub\u003e8\u003c\/sub\u003e" Vinyl Post Caps \u003c\/span\u003e\u003cspan\u003e \u003c\/span\u003e    \u003cspan\u003e \u003c\/span\u003e\u003cstrong\u003e  \u003c\/strong\u003e     \u003cspan\u003e \u003c\/span\u003e\u003cbr\u003e\u003cbr\u003e\u003c\/p\u003e\n\u003cp\u003e\u003cspan\u003e \u003c\/span\u003e\u003c\/p\u003e\n\u003cp\u003e Easy to follow written installation instructions\u003c\/p\u003e\n\u003cp\u003e\u003cspan style=\"font-size: xx-small;\"\u003e*adding options will change what is included. Base kit items shown.\u003c\/span\u003e\u003c\/p\u003e\n\u003ch5\u003e\u003cspan style=\"font-size: xx-small;\"\u003eSpecs\u003c\/span\u003e\u003c\/h5\u003e\n\u003cp\u003e\u003cspan style=\"font-size: xx-small;\"\u003e\u003cstrong\u003eDimensions:\u003c\/strong\u003e\u003cspan\u003e 7' x 1 5\/8\"\u003c\/span\u003e\u003cbr\u003e\u003cstrong\u003eColor:\u003c\/strong\u003e\u003cspan\u003e  black\u003c\/span\u003e\u003cbr\u003e\u003cstrong\u003eMaterial:\u003c\/strong\u003e\u003cspan\u003e  galvanized steel, vinyl-coated\u003c\/span\u003e\u003c\/span\u003e\u003c\/p\u003e\n\u003cp\u003e\u003cspan style=\"font-size: xx-small;\"\u003e\u003cspan\u003eWeight: 42\u003c\/span\u003e\u003c\/span\u003e\u003c\/p\u003e\n\u003c\/div\u003e"}
6' H Dog Fence Heavy Line Posts-7 Pack
6' H Dog Fence Heavy Line Posts-7 Pack
Customer Reviews
11/03/2018
Michelle B.
US
Easy
Super easy installation for 6 foot high fence. We used a dumb bell weight with the cap pounder thing to pound into ground since we didn't have a sledgehammer, worked fine. Be sure to check that the sleeves are straigh as you are putting them into the ground - you can adjust the poles a little once they are in and place screws as place holders between the sleeve and pole at the bottom but it doesn't give you much wiggle room. Also we didn't do the fancy ends and our one free standing pole is bending a little under the fence and wire tension. Cheapest and easiest 6 foot fence option I found.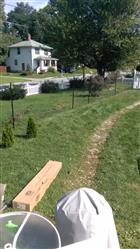 DIY Fence Installation Instructions
Our do-it-yourself pet fence is easy to install without the help from professional installers. To build your dog, cat or backyard chicken fence, read the installation instructions below.
Coming soon: Fence installation videos for dog and cat fence systems!
No page specified. To populate this tab, choose which page you wish to display in Theme Settings under the Product Pages heading.