{"id":10076933834,"title":"6' x 100' Kitty Corral Cat Fence System","handle":"6-x-100-kitty-corral-cat-fence-system","description":"Product Description\n\u003cp style=\"float: left;\"\u003eThe 6' x 100' Kitty Corral Cat Fence is made from the same durable yet flexible polypropylene mesh fence material as our award-winning virtually invisible poly dog fence. This' 6' cat run is nearly impossible for a cat to climb because the flexible 1.77\" x 1.96\" fence mesh moves with the cat's weight. As an additional safeguard for cat protection against birds another other wild animals, the top of the cat enclosure has a sturdy, inward-facing overhang extender. The base of the fence is a tough 14 gauge Chew Resistant welded wire stopping domestic cats at the most likely attempted exit point.\u003c\/p\u003e\n\u003cp\u003eThis 6' outdoor catio is UV-resistant, has a certified breaking load of 650 lbs and has an outdoor lifespan of 15-20 years. Our high quality cat fence kits are easy pet fence to install by homeowners and can be done without professional installer support.\u003c\/p\u003e\n\u003cp\u003e*Gate sold separately\u003c\/p\u003e\n\u003ch5\u003eSpecs\u003c\/h5\u003e\n\u003cp\u003e\u003cstrong\u003eDimensions:\u003c\/strong\u003e\u003cspan\u003e 6' H x 100' L\u003c\/span\u003e\u003cbr\u003e \u003cstrong\u003eLife Expectancy:\u003c\/strong\u003e\u003cspan\u003e 15-20 years\u003c\/span\u003e\u003cbr\u003e \u003cstrong\u003eMesh Dimensions: \u003c\/strong\u003e\u003cspan\u003e1.77\" x 1.96\" \u003c\/span\u003e\u003cbr\u003e \u003cstrong\u003eVisibility:\u003c\/strong\u003e\u003cspan\u003e Virtually invisible from approximately 20'\u003c\/span\u003e\u003cbr\u003e \u003cstrong\u003eColor:\u003c\/strong\u003e\u003cspan\u003e Black\u003c\/span\u003e\u003cbr\u003e \u003cstrong\u003eBreaking Strength:\u003c\/strong\u003e\u003cspan\u003e 650 lbs\u003c\/span\u003e\u003cbr\u003e \u003cstrong\u003eMaterial:\u003c\/strong\u003e\u003cspan\u003e 100% polypropylene plastic\u003c\/span\u003e\u003cbr\u003e \u003cstrong\u003eBase Weight:\u003c\/strong\u003e\u003cspan\u003e 176 lbs\u003c\/span\u003e\u003c\/p\u003e\n\u003ch5\u003e\u003cstrong\u003eWhat's Included\u003c\/strong\u003e\u003c\/h5\u003e\n\u003ctable width=\"410\"\u003e\n\u003ctbody\u003e\n\u003ctr\u003e\n\u003ctd width=\"346\"\u003e6' x 100' Heavy Duty \u003c\/td\u003e\n\u003ctd width=\"64\"\u003e1\u003c\/td\u003e\n\u003c\/tr\u003e\n\u003ctr\u003e\n\u003ctd\u003ePost 1 3\/8\" x 73\" for 6' Cat Fence w\/Male End\u003c\/td\u003e\n\u003ctd\u003e8\u003c\/td\u003e\n\u003c\/tr\u003e\n\u003ctr\u003e\n\u003ctd\u003eExtender Overhang for Cat Fence Black (no Hardware)\u003c\/td\u003e\n\u003ctd\u003e8\u003c\/td\u003e\n\u003c\/tr\u003e\n\u003ctr\u003e\n\u003ctd\u003eGround Sleeve for 1 3\/8\" Post Galv\u003c\/td\u003e\n\u003ctd\u003e8\u003c\/td\u003e\n\u003c\/tr\u003e\n\u003ctr\u003e\n\u003ctd\u003eDriver Cap for sleeve of 1 3\/8\" Post\u003c\/td\u003e\n\u003ctd\u003e1\u003c\/td\u003e\n\u003c\/tr\u003e\n\u003ctr\u003e\n\u003ctd\u003eTie - 8\" Self Locking 120 lb UV Hvy Duty 100 pk\u003c\/td\u003e\n\u003ctd\u003e6\u003c\/td\u003e\n\u003c\/tr\u003e\n\u003ctr\u003e\n\u003ctd\u003eGround Stakes 12\" Kinked  - 30 pk\u003c\/td\u003e\n\u003ctd\u003e2\u003c\/td\u003e\n\u003c\/tr\u003e\n\u003ctr\u003e\n\u003ctd\u003eWelded Wire PVC Coated 1.5x1.5\" Fence 14 ga - 2x100'\u003c\/td\u003e\n\u003ctd\u003e1\u003c\/td\u003e\n\u003c\/tr\u003e\n\u003ctr\u003e\n\u003ctd\u003eScrew 3\/4\" Self Tapping\u003c\/td\u003e\n\u003ctd\u003e24\u003c\/td\u003e\n\u003c\/tr\u003e\n\u003ctr\u003e\n\u003ctd\u003eScrew 1 1\/2\" Wood Locking Flat Button\u003c\/td\u003e\n\u003ctd\u003e12\u003c\/td\u003e\n\u003c\/tr\u003e\n\u003ctr\u003e\n\u003ctd\u003eClamp 1 3\/8\" Wall Mount Black\u003c\/td\u003e\n\u003ctd\u003e6\u003c\/td\u003e\n\u003c\/tr\u003e\n\u003ctr\u003e\n\u003ctd\u003eEnd Rail Brace Cup 1 3\/8" Black\u003c\/td\u003e\n\u003ctd\u003e8\u003c\/td\u003e\n\u003c\/tr\u003e\n\u003ctr\u003e\n\u003ctd\u003eInstallation Instruction for Cat Fence\u003c\/td\u003e\n\u003ctd\u003e1\u003c\/td\u003e\n\u003c\/tr\u003e\n\u003c\/tbody\u003e\n\u003c\/table\u003e\n\u003cp\u003e\u003cspan\u003eAdditional cat fence accessories can be purchased. The system does not include a gate, corners or ends. Tools required for installation (not included): sledgehammer, tape measure, ladder, hammer, drill with Phillips bit and socket or adjustable wrench \u003c\/span\u003e\u003c\/p\u003e\n\u003chr\u003e","published_at":"2017-02-09T14:15:00-05:00","created_at":"2017-02-09T14:17:24-05:00","vendor":"easypetfence","type":"","tags":["cat fence","cat pens","cat run","catio","cats","kitty corral","outdoor catio"],"price":79995,"price_min":79995,"price_max":79995,"available":true,"price_varies":false,"compare_at_price":null,"compare_at_price_min":0,"compare_at_price_max":0,"compare_at_price_varies":false,"variants":[{"id":37544862986,"title":"Default Title","option1":"Default Title","option2":null,"option3":null,"sku":"DE4361","requires_shipping":true,"taxable":true,"featured_image":null,"available":true,"name":"6' x 100' Kitty Corral Cat Fence System","public_title":null,"options":["Default Title"],"price":79995,"weight":453139,"compare_at_price":null,"inventory_quantity":-29,"inventory_management":null,"inventory_policy":"deny","barcode":"680175762912","requires_selling_plan":false,"selling_plan_allocations":[]}],"images":["\/\/cdn.shopify.com\/s\/files\/1\/1756\/5137\/products\/81901_10075735114_66ea945d_7a92_4327_a99b_08758b4351bd.jpg?v=1586783753","\/\/cdn.shopify.com\/s\/files\/1\/1756\/5137\/products\/55813399_313513812675411_5097368080977838384_n_1.jpg?v=1593029045","\/\/cdn.shopify.com\/s\/files\/1\/1756\/5137\/products\/nadine_cat_fence_2.jpg?v=1593029045","\/\/cdn.shopify.com\/s\/files\/1\/1756\/5137\/products\/nadine_cat_fence_3.jpg?v=1593029045","\/\/cdn.shopify.com\/s\/files\/1\/1756\/5137\/products\/cat_fence_3__09688.1507645533.1280.1280.jpg?v=1593029045"],"featured_image":"\/\/cdn.shopify.com\/s\/files\/1\/1756\/5137\/products\/81901_10075735114_66ea945d_7a92_4327_a99b_08758b4351bd.jpg?v=1586783753","options":["Title"],"media":[{"alt":null,"id":7609058263133,"position":1,"preview_image":{"aspect_ratio":1.333,"height":1125,"width":1500,"src":"https:\/\/cdn.shopify.com\/s\/files\/1\/1756\/5137\/products\/81901_10075735114_66ea945d_7a92_4327_a99b_08758b4351bd.jpg?v=1586783739"},"aspect_ratio":1.333,"height":1125,"media_type":"image","src":"https:\/\/cdn.shopify.com\/s\/files\/1\/1756\/5137\/products\/81901_10075735114_66ea945d_7a92_4327_a99b_08758b4351bd.jpg?v=1586783739","width":1500},{"alt":null,"id":9764148871330,"position":2,"preview_image":{"aspect_ratio":1.001,"height":1079,"width":1080,"src":"https:\/\/cdn.shopify.com\/s\/files\/1\/1756\/5137\/products\/55813399_313513812675411_5097368080977838384_n_1.jpg?v=1593028980"},"aspect_ratio":1.001,"height":1079,"media_type":"image","src":"https:\/\/cdn.shopify.com\/s\/files\/1\/1756\/5137\/products\/55813399_313513812675411_5097368080977838384_n_1.jpg?v=1593028980","width":1080},{"alt":null,"id":1483726717021,"position":3,"preview_image":{"aspect_ratio":0.75,"height":2000,"width":1500,"src":"https:\/\/cdn.shopify.com\/s\/files\/1\/1756\/5137\/products\/nadine_cat_fence_2.jpg?v=1569209683"},"aspect_ratio":0.75,"height":2000,"media_type":"image","src":"https:\/\/cdn.shopify.com\/s\/files\/1\/1756\/5137\/products\/nadine_cat_fence_2.jpg?v=1569209683","width":1500},{"alt":null,"id":1483726782557,"position":4,"preview_image":{"aspect_ratio":0.75,"height":2000,"width":1500,"src":"https:\/\/cdn.shopify.com\/s\/files\/1\/1756\/5137\/products\/nadine_cat_fence_3.jpg?v=1569209683"},"aspect_ratio":0.75,"height":2000,"media_type":"image","src":"https:\/\/cdn.shopify.com\/s\/files\/1\/1756\/5137\/products\/nadine_cat_fence_3.jpg?v=1569209683","width":1500},{"alt":null,"id":1490661998685,"position":5,"preview_image":{"aspect_ratio":1.527,"height":838,"width":1280,"src":"https:\/\/cdn.shopify.com\/s\/files\/1\/1756\/5137\/products\/cat_fence_3__09688.1507645533.1280.1280.jpg?v=1569211190"},"aspect_ratio":1.527,"height":838,"media_type":"image","src":"https:\/\/cdn.shopify.com\/s\/files\/1\/1756\/5137\/products\/cat_fence_3__09688.1507645533.1280.1280.jpg?v=1569211190","width":1280},{"alt":null,"id":10500430397602,"position":6,"preview_image":{"aspect_ratio":1.333,"height":360,"width":480,"src":"https:\/\/cdn.shopify.com\/s\/files\/1\/1756\/5137\/products\/hqdefault.jpg?v=1596221175"},"aspect_ratio":1.778,"external_id":"pNoDnRmFPC8","host":"youtube","media_type":"external_video"}],"requires_selling_plan":false,"selling_plan_groups":[],"content":"Product Description\n\u003cp style=\"float: left;\"\u003eThe 6' x 100' Kitty Corral Cat Fence is made from the same durable yet flexible polypropylene mesh fence material as our award-winning virtually invisible poly dog fence. This' 6' cat run is nearly impossible for a cat to climb because the flexible 1.77\" x 1.96\" fence mesh moves with the cat's weight. As an additional safeguard for cat protection against birds another other wild animals, the top of the cat enclosure has a sturdy, inward-facing overhang extender. The base of the fence is a tough 14 gauge Chew Resistant welded wire stopping domestic cats at the most likely attempted exit point.\u003c\/p\u003e\n\u003cp\u003eThis 6' outdoor catio is UV-resistant, has a certified breaking load of 650 lbs and has an outdoor lifespan of 15-20 years. Our high quality cat fence kits are easy pet fence to install by homeowners and can be done without professional installer support.\u003c\/p\u003e\n\u003cp\u003e*Gate sold separately\u003c\/p\u003e\n\u003ch5\u003eSpecs\u003c\/h5\u003e\n\u003cp\u003e\u003cstrong\u003eDimensions:\u003c\/strong\u003e\u003cspan\u003e 6' H x 100' L\u003c\/span\u003e\u003cbr\u003e \u003cstrong\u003eLife Expectancy:\u003c\/strong\u003e\u003cspan\u003e 15-20 years\u003c\/span\u003e\u003cbr\u003e \u003cstrong\u003eMesh Dimensions: \u003c\/strong\u003e\u003cspan\u003e1.77\" x 1.96\" \u003c\/span\u003e\u003cbr\u003e \u003cstrong\u003eVisibility:\u003c\/strong\u003e\u003cspan\u003e Virtually invisible from approximately 20'\u003c\/span\u003e\u003cbr\u003e \u003cstrong\u003eColor:\u003c\/strong\u003e\u003cspan\u003e Black\u003c\/span\u003e\u003cbr\u003e \u003cstrong\u003eBreaking Strength:\u003c\/strong\u003e\u003cspan\u003e 650 lbs\u003c\/span\u003e\u003cbr\u003e \u003cstrong\u003eMaterial:\u003c\/strong\u003e\u003cspan\u003e 100% polypropylene plastic\u003c\/span\u003e\u003cbr\u003e \u003cstrong\u003eBase Weight:\u003c\/strong\u003e\u003cspan\u003e 176 lbs\u003c\/span\u003e\u003c\/p\u003e\n\u003ch5\u003e\u003cstrong\u003eWhat's Included\u003c\/strong\u003e\u003c\/h5\u003e\n\u003ctable width=\"410\"\u003e\n\u003ctbody\u003e\n\u003ctr\u003e\n\u003ctd width=\"346\"\u003e6' x 100' Heavy Duty \u003c\/td\u003e\n\u003ctd width=\"64\"\u003e1\u003c\/td\u003e\n\u003c\/tr\u003e\n\u003ctr\u003e\n\u003ctd\u003ePost 1 3\/8\" x 73\" for 6' Cat Fence w\/Male End\u003c\/td\u003e\n\u003ctd\u003e8\u003c\/td\u003e\n\u003c\/tr\u003e\n\u003ctr\u003e\n\u003ctd\u003eExtender Overhang for Cat Fence Black (no Hardware)\u003c\/td\u003e\n\u003ctd\u003e8\u003c\/td\u003e\n\u003c\/tr\u003e\n\u003ctr\u003e\n\u003ctd\u003eGround Sleeve for 1 3\/8\" Post Galv\u003c\/td\u003e\n\u003ctd\u003e8\u003c\/td\u003e\n\u003c\/tr\u003e\n\u003ctr\u003e\n\u003ctd\u003eDriver Cap for sleeve of 1 3\/8\" Post\u003c\/td\u003e\n\u003ctd\u003e1\u003c\/td\u003e\n\u003c\/tr\u003e\n\u003ctr\u003e\n\u003ctd\u003eTie - 8\" Self Locking 120 lb UV Hvy Duty 100 pk\u003c\/td\u003e\n\u003ctd\u003e6\u003c\/td\u003e\n\u003c\/tr\u003e\n\u003ctr\u003e\n\u003ctd\u003eGround Stakes 12\" Kinked  - 30 pk\u003c\/td\u003e\n\u003ctd\u003e2\u003c\/td\u003e\n\u003c\/tr\u003e\n\u003ctr\u003e\n\u003ctd\u003eWelded Wire PVC Coated 1.5x1.5\" Fence 14 ga - 2x100'\u003c\/td\u003e\n\u003ctd\u003e1\u003c\/td\u003e\n\u003c\/tr\u003e\n\u003ctr\u003e\n\u003ctd\u003eScrew 3\/4\" Self Tapping\u003c\/td\u003e\n\u003ctd\u003e24\u003c\/td\u003e\n\u003c\/tr\u003e\n\u003ctr\u003e\n\u003ctd\u003eScrew 1 1\/2\" Wood Locking Flat Button\u003c\/td\u003e\n\u003ctd\u003e12\u003c\/td\u003e\n\u003c\/tr\u003e\n\u003ctr\u003e\n\u003ctd\u003eClamp 1 3\/8\" Wall Mount Black\u003c\/td\u003e\n\u003ctd\u003e6\u003c\/td\u003e\n\u003c\/tr\u003e\n\u003ctr\u003e\n\u003ctd\u003eEnd Rail Brace Cup 1 3\/8" Black\u003c\/td\u003e\n\u003ctd\u003e8\u003c\/td\u003e\n\u003c\/tr\u003e\n\u003ctr\u003e\n\u003ctd\u003eInstallation Instruction for Cat Fence\u003c\/td\u003e\n\u003ctd\u003e1\u003c\/td\u003e\n\u003c\/tr\u003e\n\u003c\/tbody\u003e\n\u003c\/table\u003e\n\u003cp\u003e\u003cspan\u003eAdditional cat fence accessories can be purchased. The system does not include a gate, corners or ends. Tools required for installation (not included): sledgehammer, tape measure, ladder, hammer, drill with Phillips bit and socket or adjustable wrench \u003c\/span\u003e\u003c\/p\u003e\n\u003chr\u003e"}
6' x 100' Kitty Corral Cat Fence System
6' x 100' Kitty Corral Cat Fence System
Customer Reviews
Write a Review
Ask a Question
Filter Reviews:
fence
order
cat-proofedness
refund
ends kit
side
customer service
Kitty Corral
mixup
phone calls
04/05/2020
Maureen O.
United States
I recommend this product
good customer service
I haven't tested the cat-proofedness of the fence yet, as my new rescue was semi-feral and isn't tame enough to be let outside (my yard has several trees near 6'-tall wooden fences on 3 sides, and the Kitty Corral on the 4th side). There was a mixup with the order and the ends kit that I ordered didn't arrive, but customer service helped me with the refund (which took over a week to post to my credit card) and with advice on the initial purchase. It was reassuring to have my phone calls and emails answered promptly and helpfully. I had a fence company do the install because the fence has to go over a rockery in 2 places.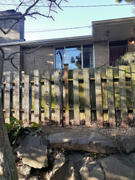 DIY Fence Installation Instructions
Our do-it-yourself pet fence is easy to install without the help from professional installers. To build your dog, cat or backyard chicken fence, read the installation instructions below.
Coming soon: Fence installation videos for dog and cat fence systems!
No page specified. To populate this tab, choose which page you wish to display in Theme Settings under the Product Pages heading.